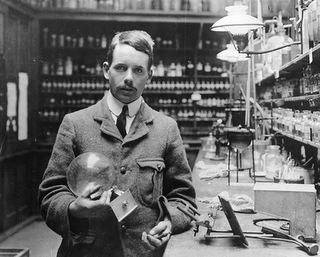 Harry Moseley as an undergraduate in the Balliol-Trinity laboratory at Oxford University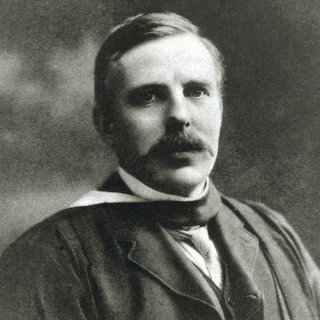 In 1910, Moseley moved to Manchester to study under Nobel laureate Ernest Rutherford.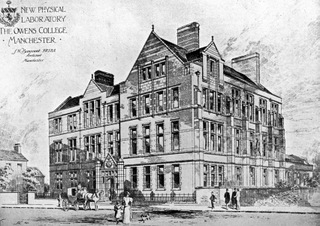 Generously endowed by local industrialists, the University of Manchester featured one of the finest physics laboratories in the world.
Redefining the Periodic Table
His scientific output was modest – just eight short papers – but in a career spanning only four years, Harry Moseley profoundly changed our understanding of the nature of matter. As a graduate student in Ernest Rutherford's physics laboratory at the University of Manchester in England, Moseley used newly discovered X-rays to redefine the Periodic Table, showing that it was actually organized by atomic number – the number of protons in an atom's nucleus – rather than by atomic weight, as chemists had believed for nearly 50 years.
"Here was a man who at the age of 25 was doing experiments so profound that they would almost certainly have won him the Nobel Prize within a year or two," says Brandeis University chemist Gregory Petsko. "But when World War I broke out, he enlisted in the army. He was sent to Europe, and he died from a sniper's bullet at the battle of Gallipoli." After Moseley's death, tributes poured in from around the world, none more moving than that of American physicist Robert Millikan, who had met Moseley on a visit to Rutherford's lab:
"A young man twenty-six years old threw open the windows through which we can glimpse the sub-atomic world with a definiteness and certainty never dreamed of before. Had the European War had no other result than the snuffing out of this young life, that alone would make it one of most hideous and most irreparable crimes in history."
Born With Science In His Blood
Henry Gwyn Jeffreys Moseley had been born with science in his blood. Both his grandfathers had been members of England's leading scientific organization, the Royal Society, and his father was a famous naturalist and Oxford University professor. But after Moseley earned a degree in physics at Trinity College Oxford, he elected to pursue graduate studies not in Oxford, Cambridge or London but 200 miles to the north, in Manchester. He was drawn there by the brightest star in physics – an irrepressible New Zealander named Ernest Rutherford, who had already won the Nobel Prize for his research on radioactivity.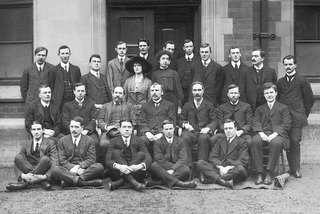 In 1912 the University of Manchester physics laboratory headed by Ernest Rutherford (second row center) included Harry Moseley (seated second from left), Hans Geiger (inventor of the Geiger counter), Charles G. Darwin (grandson of the great biologist) and James Chadwick, who would later win the Nobel Prize for discovering the neutron. CLICK TO ENLARGE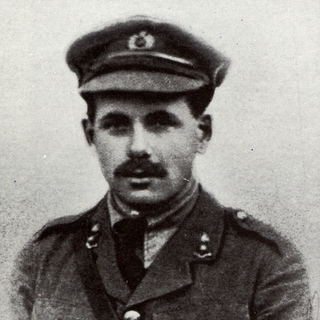 Moseley in uniform in 1915